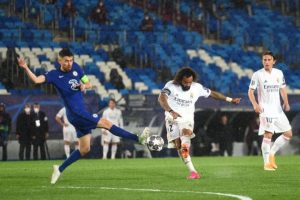 If you had offered Chelsea a 1-1 draw in the first leg of their Champions League semi-final against Real Madrid before kick off, Thomas Tuchel would have no doubt taken it.
However, as things progressed on Tuesday night you could not help but get the feeling that the Blues may come to regret not better exploiting Los Blancos' terrible start to the game.
In the first half, but particularly in the opening 20 minutes, Chelsea looked sensational. Zinedine Zidane – who has received more credit as a tactician during his second spell in charge – had set up Real to match their opponents.
Los Blancos lined up with a back three of Eder Militao, Nacho and Raphael Varane with Dani Carvajal and Marcelo acting as wing-backs. On paper, this made sense and it was a tactic that Zidane also employed in the round of 16 against Atalanta. In the second leg of that tie, Real shaped up similarly to how they did on Tuesday night, securing a 3-1 victory.
The scoreline did not tell the whole story though, with Real not playing that well. It was much more a case of Atalanta losing the game than Zidane's charges winning it.
They looked similarly uncomfortable in a back three against Chelsea.
On both sides, their wing-backs were leaving back gaps that the midfield – whose lack of legs was painfully clear whenever the Blues broke forward – could not fill. Marcelo's positioning was particularly bizarre. In possession, the Brazilian was popping up all over the place, occasionally tucking into an almost defensive midfield position. Other times he camped out on the shoulder of the last defender.
Regardless of what vibe he was feeling going forward, he consistently failed to track back. This was exposed most blatantly in the 10th minute. After Mason Mount had skipped past a pair of wild challenges, he floated a ball to Christian Pulisic at the back post who then laid in on a plate for Timo Werner. He then did what he does best: miss an absolute sitter.
During this entire exchange Marcelo was not even in view of the camera and it would not be the last time than Varane was left to deal with Chelsea's frightening transitions unaided.
During this lightning opening 25 minutes, Chelsea scored through Pulisic and registered four further shots while Real had just one. This was not the only metric the Blues dominated either. They also competed more dribbles, tackles and had more possession with their waspish pressing helping to keep Toni Kroos' and Luka Modric's influence to a minimum.
Yet for all their good work, they went into the break level with their opponents due to their inability to defend a set piece.
After the break Real tweaked their shape and managed to get a foothold in the game. It is unlikely they will make the same mistakes in Wednesday's second leg either, suggesting that Chelsea may come to rue that missed Werner chance and their failure to capitalise on their fiery start in eight days' time.