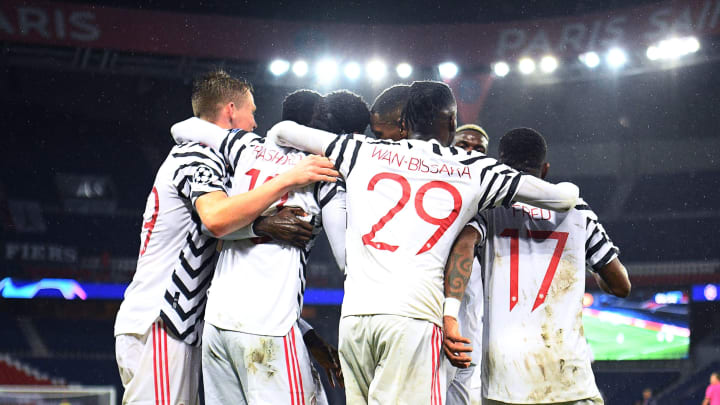 It was the events that unfolded at the Parc des Princes 19 months ago which forced BT Sports pundit Rio Ferdinand to utter those infamous words which, on many occasions, have come back to haunt him.
Nevertheless, Ole Gunnar Solskjaer remains at the Manchester United wheel after guiding the Red Devils to an unthinkable second leg triumph in Paris two seasons ago.
It's fair to say things haven't been plain sailing since his permanent appointment, but Tuesday night's victory in the French capital is exactly why the United hierarchy are reluctant to part ways with the Norwegian boss.
This was a tactical masterclass from the United boss. He got it spot on.
He was bold with his team selection, reverting to the 5-3-2 which brought so much success against superior opposition last season – thwarting Liverpool at Old Trafford and killing Manchester City in transition at the Etihad. Most significantly, Paul Pogba was named on the bench as Scott McTominay and Fred retained their places in midfield alongside skipper Bruno Fernandes.
PSG did have some early success and forced David de Gea into two fantastic saves, but after Abdou Diallo clumsily brought down Anthony Martial and Fernandes eventually converted from the spot, things were pretty comfortable in the first-half for the visitors.
With Thomas Tuchel faced with a plethora of injuries, the German boss was forced into deploying an incredibly defensive midfield trio. Danilo Pereira, Ander Herrera and Idrissa Gueye made up PSG's triumvirate in the middle of the park, one that distinctly lacked any source of progression, penetration and control.
Les Parisiens' midfield situation could be compared to their clash with Atalanta in last season's Champions League quarter-final. On that occasion, Marquinhos partnered Herrera and Gueye with Tuchel wary of La Dea's attacking prowess, but the drawbacks it brought about in regards to their own attacking efficiency were stark.
Nevertheless, Atalanta's heavy man-marking approach meant Tuchel could rely on two of Europe's supreme protagonists to get PSG out of jail. Neymar and Kylian Mbappe just had to win their respective one-on-one duels and they'd be in business. Against United, though, the dynamic of the contest was different.
United's zonal approach meant this one wasn't merely about 'winning your individual battles', there had to be patterns, combinations, innovation to break down a mightily disciplined United block. But they weren't forthcoming.
Credit has to go to the visitors for sticking to their task; Fred – utterly brilliant, by the way – and McTominay were superb at blocking passing lanes into the front three and covered tremendously well in transition. Ole's decision not to start Pogba was a masterstroke.
It's important to emphasise, though, that this wasn't merely United parking the bus and hitting the hosts on the counter, far from it. They pressed high in this shape, with Fernandes joining the front two and wing-backs advancing onto PSG's full-backs – which thwarted their progression down the flanks.
There was certainly an avenue for PSG to exploit through Neymar dropping deep into pockets and embarking on sequences of supreme samba silk, but the Brazilian was a mere shadow of the superstar who wreaked havoc in Lisbon. He was a borderline embarrassment on Tuesday night, distinctly lacking any sort of intensity or desire.
Nevertheless, PSG's attacking woes in the first half forced Tuchel into a change at the break. Moise Kean replaced Gueye with an alteration to a 4-2-3-1 arriving also. There seemed to be an emphasis on allowing the full-backs to advance with Neymar and Angel Di Maria drifting infield.
Tuchel's switch did culminate in the hosts' best period of the contest, in which they scored via an Anthony Martial own goal ten minutes into the second period. However, the PSG boss' change in tack perhaps left the hosts a little bit short in defensive transition – with two as opposed to three midfielders now protecting the defence.
Thus, after the superb Axel Tuanzebe and irresistible Aaron Wan Bissaka denied Mbappe on several occasions, amid a period of sustained PSG pressure following the equaliser, Ole opted to alter things too.
Alex Telles was replaced for Pogba. A 4-4-2 diamond was now United's poison. It was a courageous move and calculated risk. but a smart one nonetheless such was PSG's vulnerability.
The switch completely altered the momentum of the contest once more, United were the aggressors thanks to Ole's change; dominating the second phase and frequently picking PSG apart in transition. However, the wastefulness of their forwards meant it appeared that Solskjaer and the Red Devils weren't going to receive the just reward for their immense display.
That was before Marcus Rashford, a particular culprit of spurning chances, drifted infield to receive Pogba's pass before a rapid change of pace past Pereira opened up a shooting chance. His effort was crisp and pinpoint, darting in off Keylor Navas' post to hand his side the lead and overwhelmingly deserved three points.
It was the perfect ending to a complete display. One that celebrated Solskjaer's tactical acumen.
In the space of just over two weeks, the Norwegian has gone from a man under serious pressure following their 6-1 humiliation against Spurs, to once again being touted as the man to lead United forward – not necessarily by Ferdinand this time.
#PochIn is a hashtag of the past, people – that's, of course, until Timo Werner scores a brace in a 2-1 victory for Chelsea at Old Trafford on Saturday. But for now, let's celebrate Solskjaer and a fantastic United display. They've most certainly done the Premier League proud.